V6 variety SECTION

Last updated: 30/01/2001
CONCERTS:
V6 CLIPS
V6 CLIPS AND MORE
COMING CENTURY SKY
V6 SPACE 'LIVE' CONCERT
VARIETIES:
GAKKO HE IKOU


Gakko he Ikou is one of the most popular variety programs in Japan. Each week, V6 goes to different schools and students shout out things that are on their mind from the rooftop of their school. Other segments include games like "Where are you going", Tokyo Love Story (with 2 very scary kogals), and various skits. Highly recommended show! Each episode is about 1 hour.
Most recent episodes (2000): 15/5, 29/5, 20/6, 27/6, 18/7, 25/7, 1/8, 8/8 etc
Other episodes: Old episodes with Shonen Tsuyoshi, Where are you going game, Kogals etc.
Specials:
Gakko 2000 Christmas Special

Gakko Autumn special 2000
22/5 (100 episode SP)
4/7 (Sp-Tsuyoshi Dohmoto)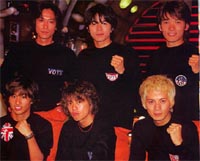 MAHA BUIROKU


Maha V6 (or Mach Buiroku) is no longer showing on Japanese television. Which is a shame because it was really a very funny show. Each week the members of V6 have to play a game of Russian Roulette and the loser has to do very embarrassing punishments. Each episode is about 30 minutes.
Most recent episodes (2000): 15/6, 22/6, 29/6 (SP),13/7, 20/7, 27/7, 3/8, 17/8, 24/8, 31/8, 17/9 (Sp) and more
Includes: BIG Musical, Junichi Okada Dokkiri in NY, Kamisen Batsu Game (Haunted House) etc.
Owarai V6 Byoutou

This is a new variety show by V6, which replaced Maha V6 late last year. So far it is doing fantastic, and is as funny as Maha V6. There are many funny characters played out by the members. Each episode is about 30 minutes.
Only have 1 episode so far.
APPEARANCES:

Yoru Mo Hippare -V6 guest

V6 24 Hour Television

Utaban-V6 guest

Love Love Aishiteru -V6 guest (2 appearances)

FNS aki game show 2000 -Kamisen

All Johnny's Undoukai (Sports Events) from 1996 onward.

8 Ji Da J - Kamisen

Music Station -V6, J-Friends

Kinki Kids no Gyu -Okada Junichi
and more in VARIOUS section.